Don't panic or stop reading, we used the word 'revolution' in the title and though admittedly it's provocative being less than a week from the US Presidential elections, we are talking about entertainment and TV, not politics. Cue the massive sigh of relief here…
Our story starts with a recent article published in PC Magazine titled "Meet Two Companies That Want to Revolutionize 4K Video", where the author Troy Dreier examines the state of 4K and some of the issues surrounding the rate of 4K adoption, specifically a chicken-and-egg problem. As Dreier points out, 4K UHD TVs are being bought in considerable numbers "over 8 million 4K TVs to date, 1.4 million in the US."
But what about content?
Although, 4K is already far more widely deployed in Asia Pacific and Western Europe, in the US cable and satellite customers are seeing limited content choices, with almost no options in broadcast, leaving consumers turning to online distribution services to satisfy their needs.
But with this comes another problem facing streaming providers, the commodity of the internet: bits.
Though the internet is getting much faster and infrastructure is improving, overall average speeds are still just 15.3 Mbps per household, making it difficult to deliver 4K UHD video sustainably. Or at least with the quality promise that the TV vendors are making. This ultimately, puts the pressure on network operators and over-the-top content suppliers to do everything they can to lower the number of bits they transport without damaging the picture quality of the video.
To this point, Dreier suggests that video optimization solutions are needed to "condense 4K video." Dreier goes on to point out two solutions that are solving this problem, and one of them he highlights is Beamr's content adaptive optimization solution, Beamr Video.
At the heart of our video encoding and processing technology solutions is the Beamr content adaptive quality measure that is backed up by more than 20 granted patents with another 30 still pending.  
The Beamr Video optimization technology is based on a proprietary, low complexity, reliable, perceptual quality measure. Or put simply, we have the most advanced commercially available content adaptive quality measure available. The existence of this measure enables controlling a video encoder, to obtain an output clip with maximal compression of the video input, while still maintaining the input video resolution, format and visual quality. This is performed by controlling the compression level frame by frame, in such a way that the maximum number of bits are squeezed out of the file, while still resulting in a perceptually identical visual output.
An important characteristic of our quality measures is that it operates as a full-reference to the source which insures that artifacts are never introduced as a result of the bitrate reduction process. Many "alternative" solutions struggle with inconsistent quality as they operate in an open loop, which means at times quality may be degraded while at other times they leave "bits on the table."
With so much at stake for next generation entertainment formats, it is critical that every new encoding and video processing technology be evaluated for quality and useability. This is why we are proud of the customers we have which include major Hollywood studios, premium OTT content distributors, MSOs and large video platforms.
Beamr Video in the real world with 720p VBR input, reduced 21%: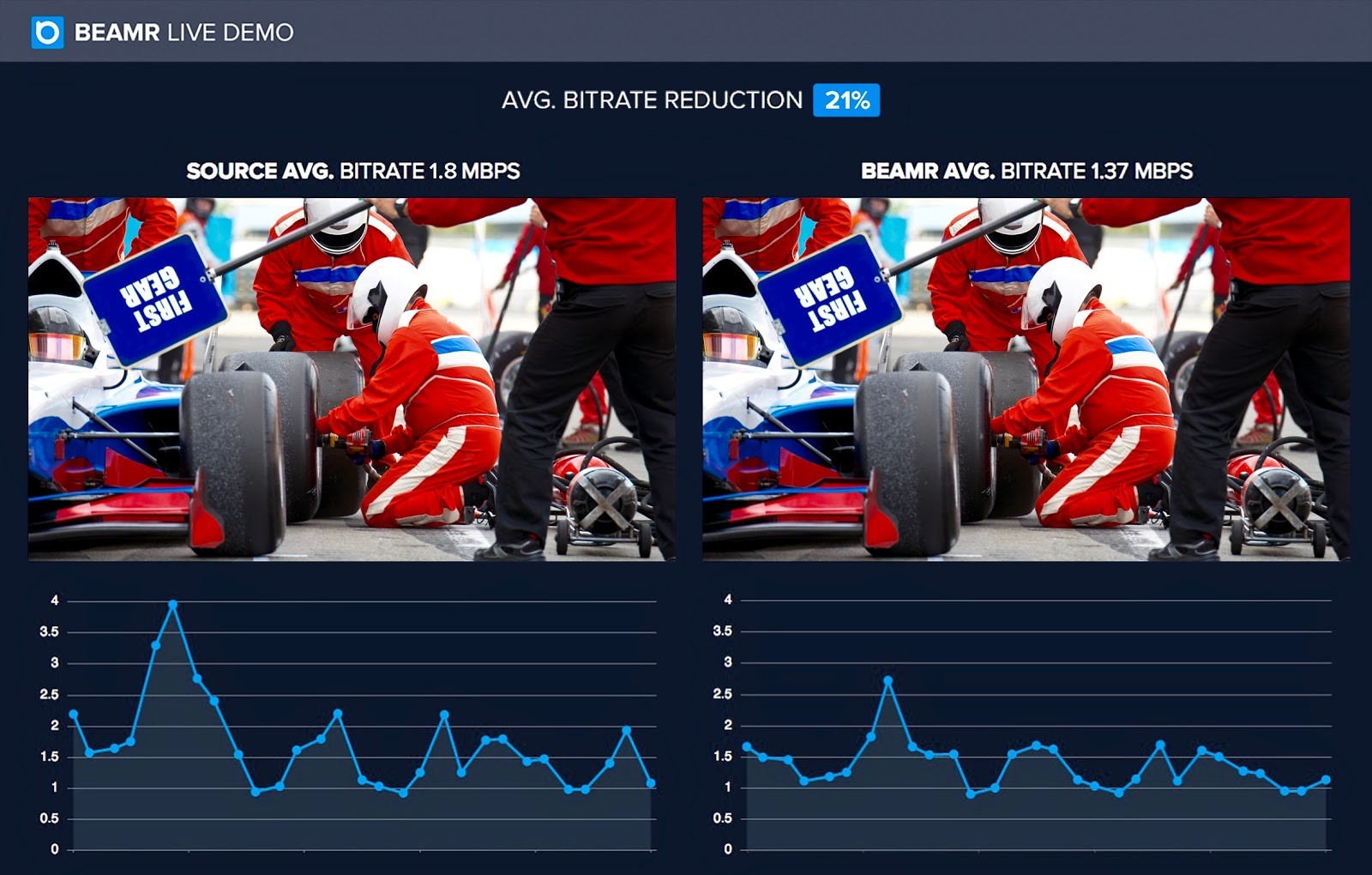 For more information on the why and how behind content adaptive solutions, download the free Beamr Content Adaptive Tech Guide.
---