Apple recently announced their plans to enable HEVC on up to one billion devices with the release of iOS 11 and High Sierra later this year, causing video services to reevaluate their workflows and the codecs they are using. With video codecs in a constant state of ongoing development, it can be hard to know which one is right to choose.  But with the ever increasing pressure to reduce bitrates and upgrade quality, video service providers looking for a competitive edge, are examining next generation encoding platforms, namely HEVC and VP9.
To aid in the evaluation process, our software video encoding engineers have compiled a guide that will eliminate the guesswork of comparing HEVC and VP9. This guide provides a qualitative overview of the strengths, weaknesses, and key differences between the HEVC (H.265) and VP9 codec toolsets, including:
Partitioning approaches & block sizes

Variable length coding features

Transform types and sizes

Intra & inter prediction

In-loop filters
Click graphic to download the full white paper.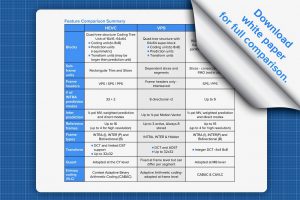 ---